How do I format my SD card for aviation devices on a Mac?
How to format an SD card on a Mac

Warning:
Make sure that you have removed any information that should be saved from the SD card.  Formatting an SD card Erases everything on the SD card.
If you have a Flight Stream 510 card, we do not recommend formatting it with a Mac as it can permanently damage the card. Please try to find a Windows machine to do so.
When formatting an SD card on a MAC, we recommend using the SD Memory Card Formatter, mentioned below:
How to Download SD Memory Card Formatter for Mac:
the way to the bottom there will be a blue box that says "For Mac" Click on that.

2. It will then take you to the license agreement, scroll all the way to the bottom and
another blue box will come up saying "Accept" click on accept.

3. Then it will bring a pop up downloader - you want to "show in folder" (usually in
top right or bottom left - if none check in the finder under downloads).

4. Once we are in the downloads folder in finder double click on it, it will then add a
"file" in the downloads folder.

5. Double click on the blue file, it will then generate an install file. You also want to
double click on the "install SD card Formatter"

6. After you double clicked on that, it will then bring up another window: Select
Continue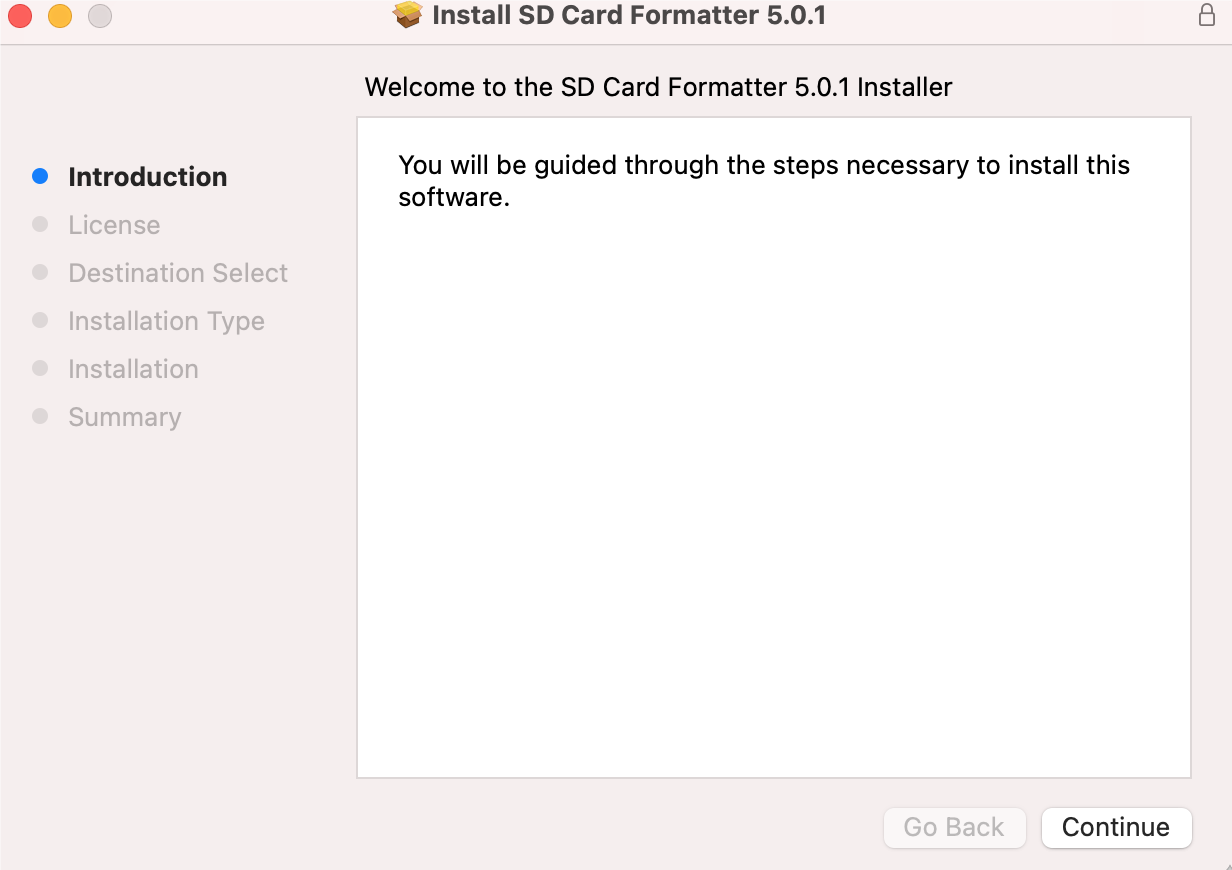 7. Then it will bring up the License agreement, click continue again.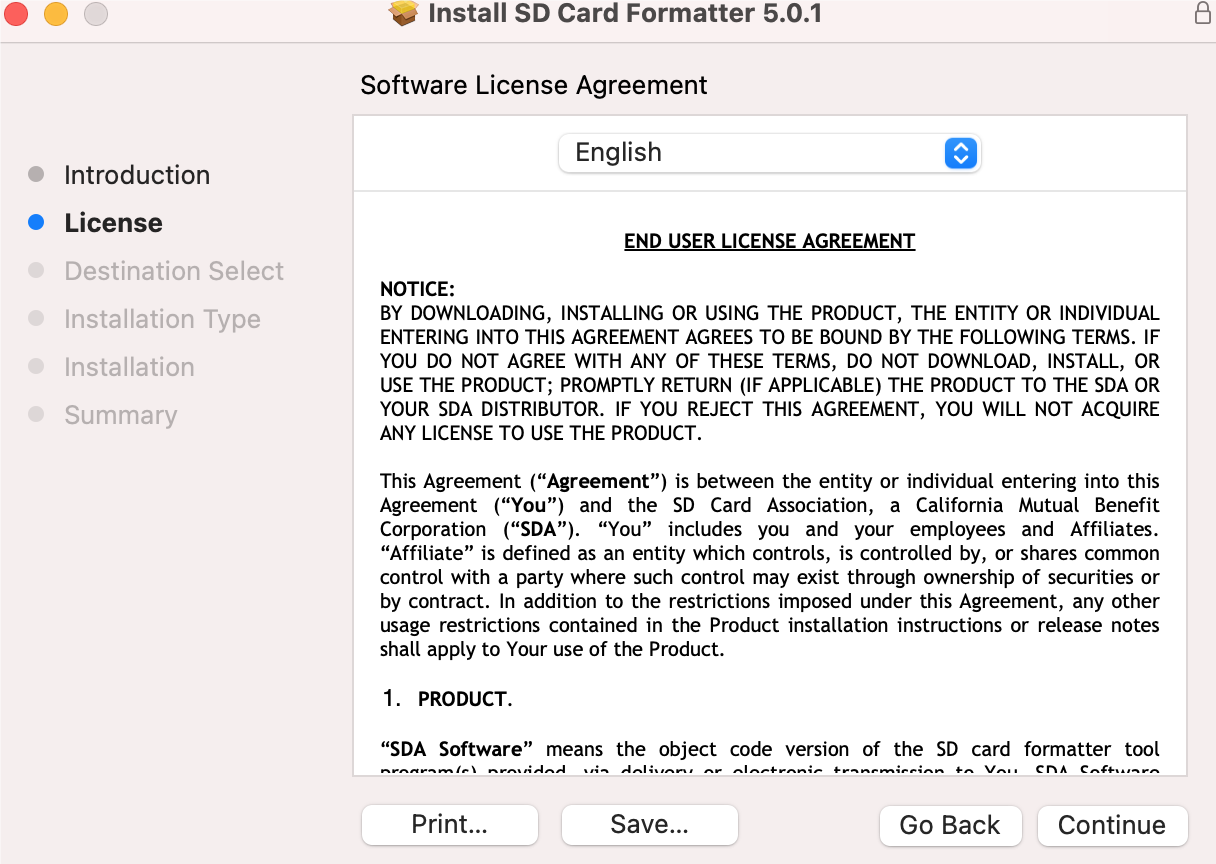 8. Then another pop up will happen, and we will want to accept the license
agreement.

9. After we hit agree, it will take us to the install page, click install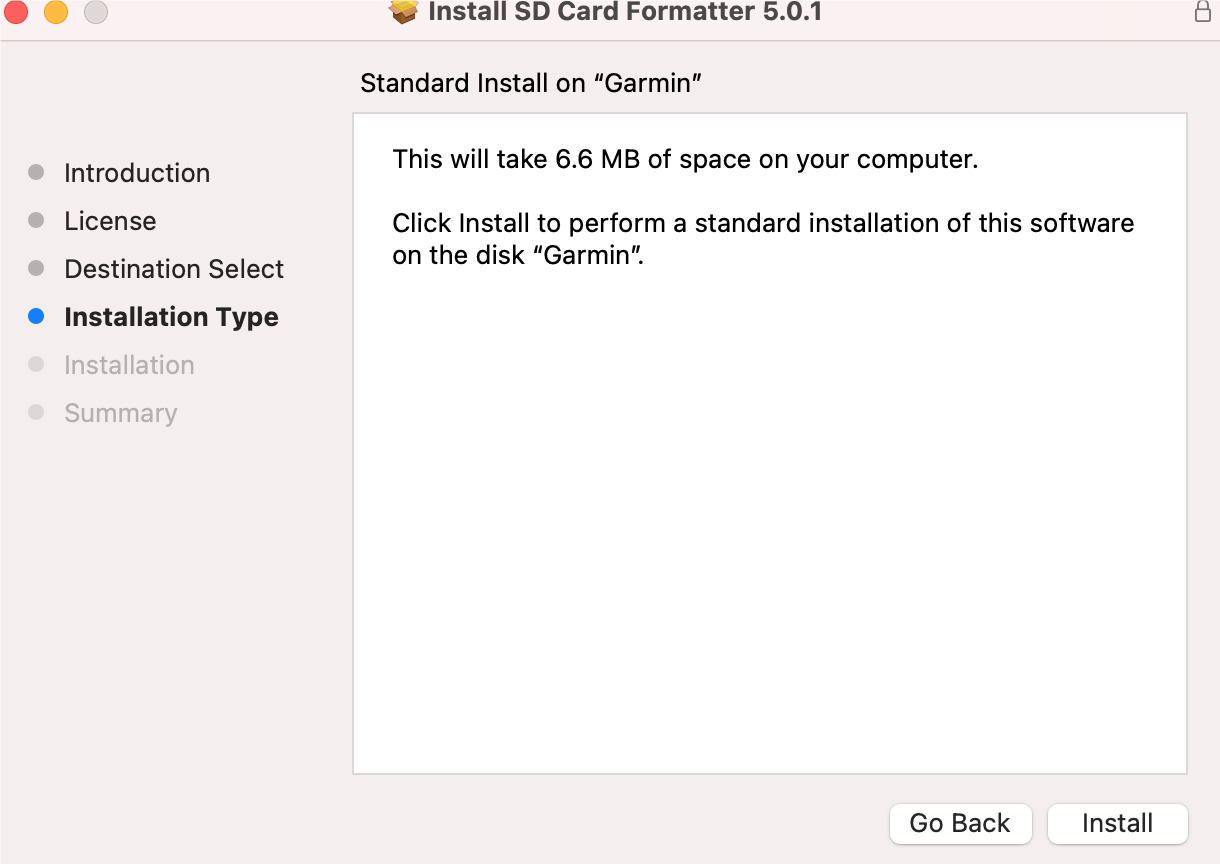 10. Another pop up will occur, type in your user name and password for the computer
11. Then once installed it will say "the installation was successful and you can hit
closed" then it will ask you if it can access your finder, you will select "yes" and
another will say want to keep this file or move to trash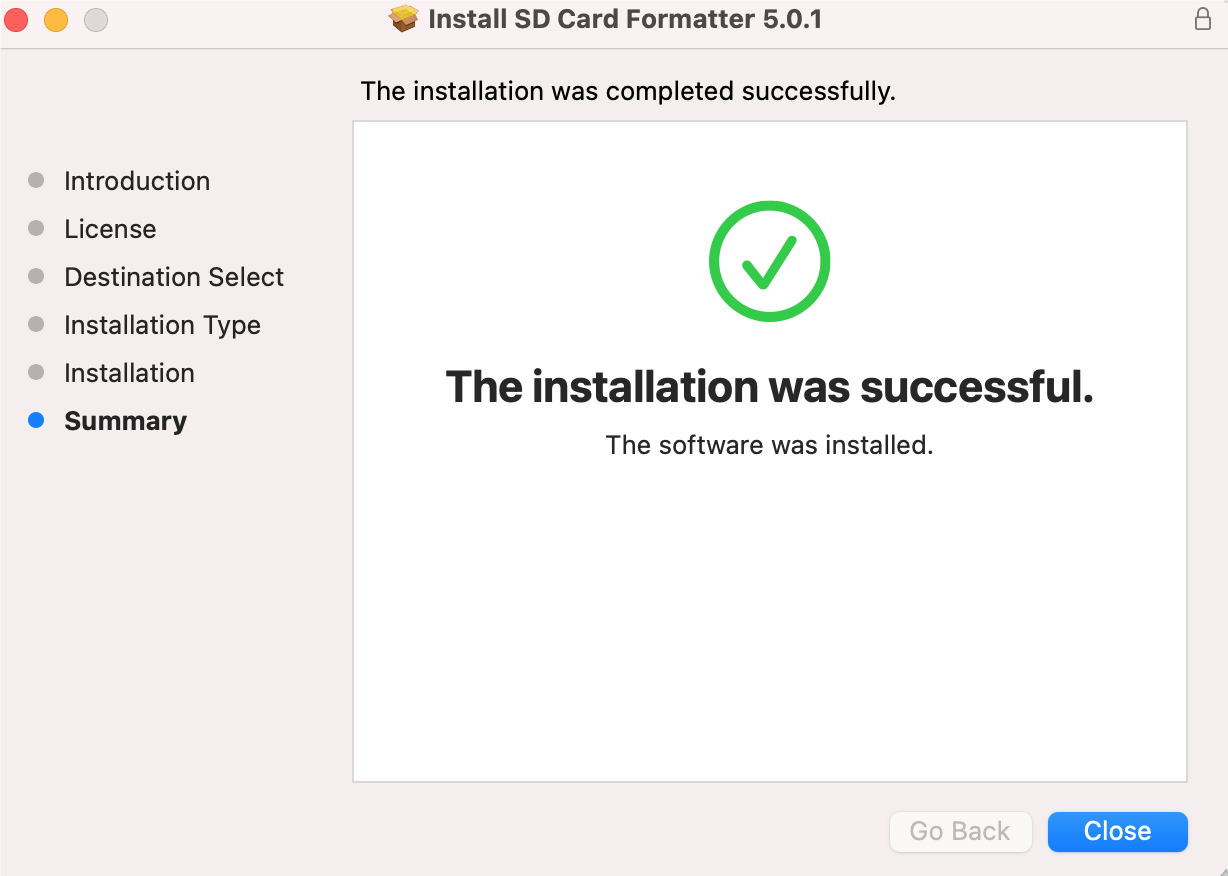 12. Once it is downloaded, go ahead and insert the SD card and go to "finder" and
click on the applications folder. Once you find applications folder, look for "SD
Card Formatter"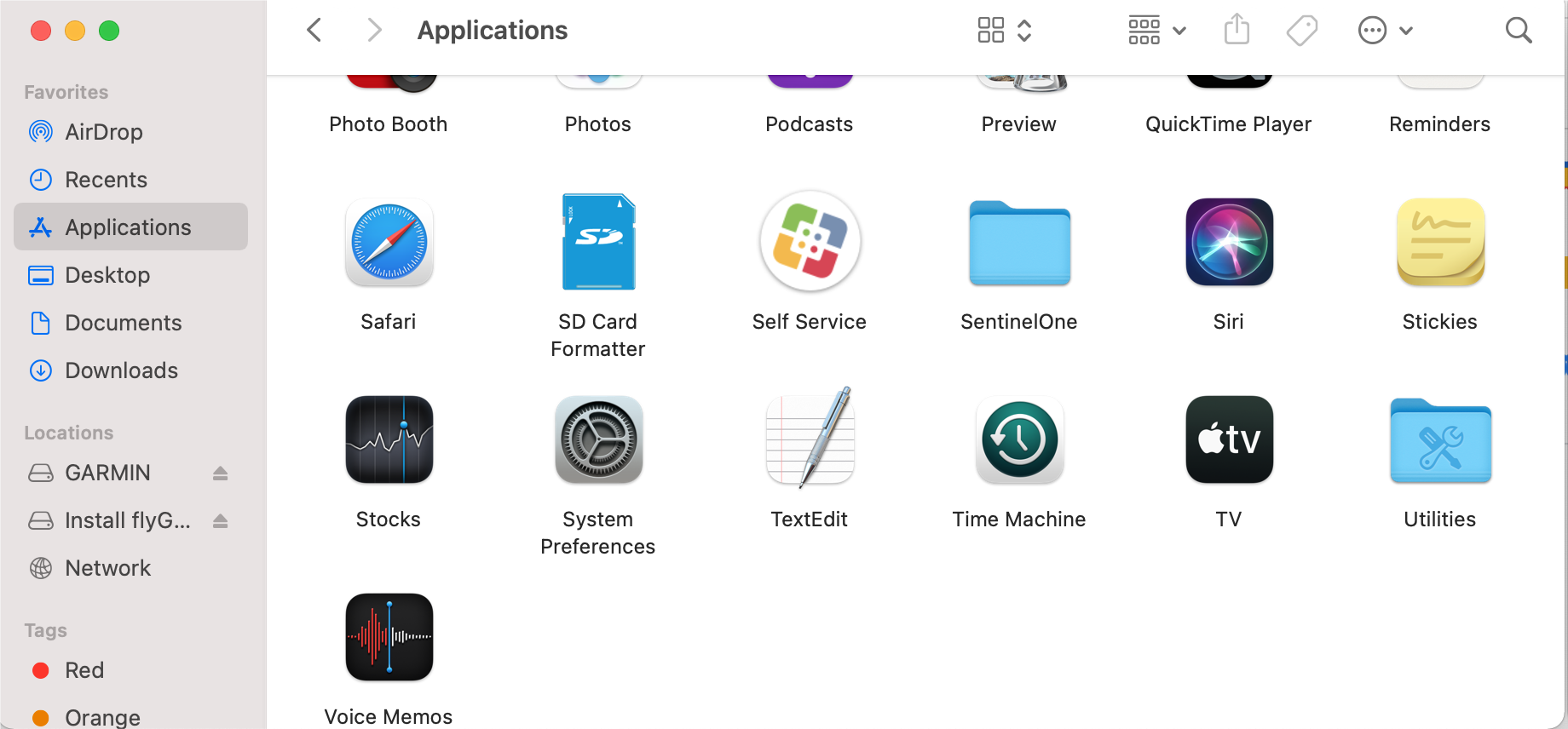 13. Double click on the SD Card Formatter and you want to make sure it says
"GARMIN" You can also open "disk utility" and click on the Garmin SD card and
see if it matches. If it does, click "Format"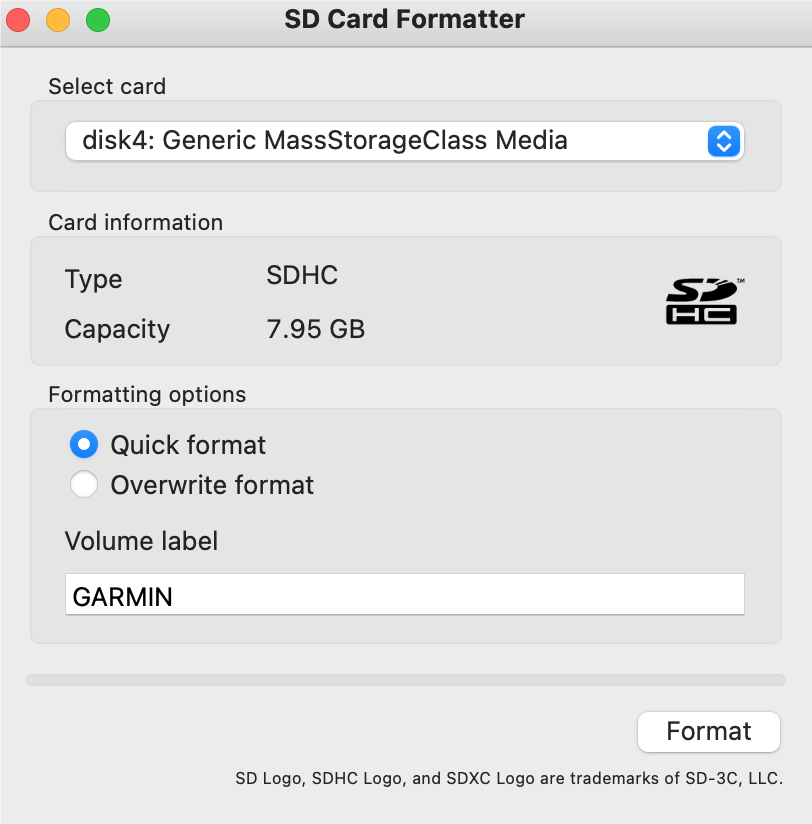 14. After you click format it will ask you to make sure, click continue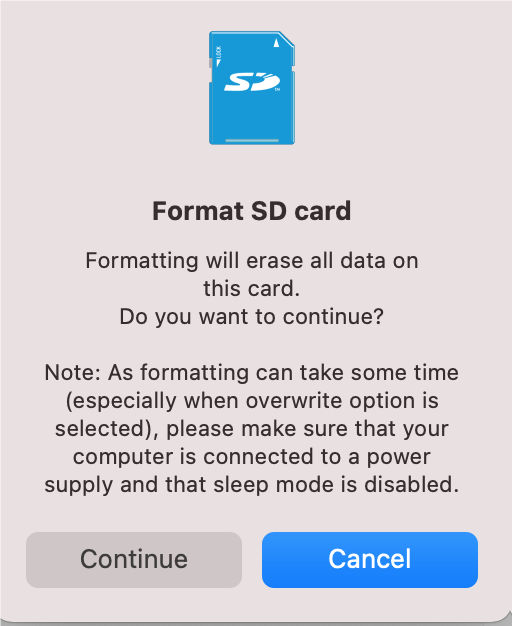 15. Once you clicked on continue and it is done formatting, it will then say "Format
complete" click "OK"
16. To verify everything went through OK you can check back with Disk Utility
17. If everything looks okay, then you have successfully formatted the card. You may
successfully eject your SD card.
*NOTE: ONCE INSTALLED IT WILL BE IN THE APPLICATIONS FOLDER IN
FINDER FOR FUTURE FORMATTING* (Follow steps 12-17)
Related Articles