How to update the 2020 IGRF Magnetic Field Model (Mag/Var) for your Avionics.
The IGRF (International Geomagnetic Reference Field) is a standard mathematical description of the Earth's main magnetic field. It is updated every 5 years; therefore, our avionics require an update to reflect this change.
When updating Navigation Data to cycle 2012 or later, your avionics will prompt you to update the IGRF model GRS1 MV DB (Magnetic Variation Database). You can accept it and proceed with the update.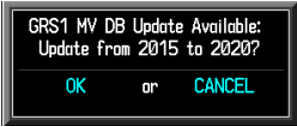 However, certain systems are equipped with software versions that require specific attention. Therefore, you may notice that the IGRF model update might fail. If it does fail, then please take a look at the following Service Advisories and click on the link that applies to your specific avionics.
For all G1000 Integrated Flight Decks (G900X, G950, G1000(H), G1000 NXi, Cirrus PerspectiveTM, Embraer ProdigyTM) with a Garmin AHRS and GDU software versions 6.00 and greater. Also, for All Garmin G2000, G3000, G5000(H), and Embraer Prodigy® Touch systems with a Garmin AHRS, please see Service Advisory 1612, Rev F:
https://s23634.pcdn.co/en-US/aviationalerts/wp-content/uploads/2020/11/1612F.pdf
Within the Service Advisory, once you get to Step 2, you will need to open that link on your browser. It will take you here: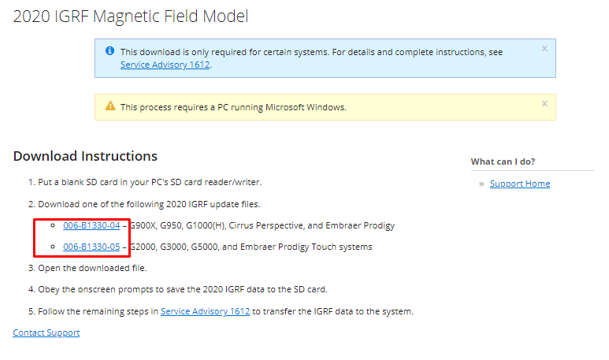 Follow the steps shown in the above picture. Please keep in mind that the process requires a Windows PC, as the download is a.exe file and Macs do not support those types of files. When using Google Chrome as your main browser, right click on the download link and click "Copy Link Address."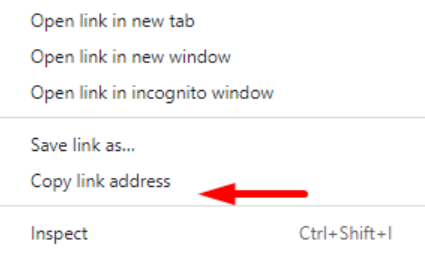 Open a new tab on your browser, and paste the text. This will start downloading the .exe file.
For all G500, G500H, G600, G500 TXi, G500H TXi, G600 TXi, G700 TXi, and GI 275 systems, please see Service Advisory 20112 Rev A:
https://s23634.pcdn.co/en-US/aviationalerts/wp-content/uploads/2020/10/20112A.pdf
Note: If you are not able to update your IGRF file with the above procedures, then you will need to contact your local Garmin Dealer for further assistance.
Watch this video for more information about the International Geomagnetic Reference Field.
Related Articles